---
------

MOST SECURE POINT-OF-SALE SYSTEM
Clover® Station Duo
(Previously known as Station Pro)
Central Command
One central hub for power and processing. One screen for you, one for your customers. And just one rate for all your credit, debit, and gift card payments.
Faster Orocessing, Faster Deposits
Run chip card transactions in less than three seconds. And with Rapid Deposit, you can get your money in minutes, not days.
Insights at Your Fingertips
Clover® Station Duo: Harness the power of your own data—see the patterns and trends driving your sales and take a smarter approach to marketing.
---
The newest system from Clover®
Clover® Station Duo is Clover's fastest, most powerful POS system. From inventory and orders to managing your staff and running reports, it's all at your fingertips. Protect your business and customer information with end-to-end encryption and data tokenization, integrated EMV chip sensors, and fingerprint logins. Run your entire shop on a single smart POS. Manage inventory and keep track of stock. Accept payments at the touch of a button. Handle returns and exchanges. Oversee your staff and run sales reports.
Rebel Payments offers Clover® Solo, Clover® Flex, & Clover® Mini.
---
Find out what Clover can do for your business
Fill out the fields below and a Rebel Payments Services representative will contact you. Your submitted information is private and secure.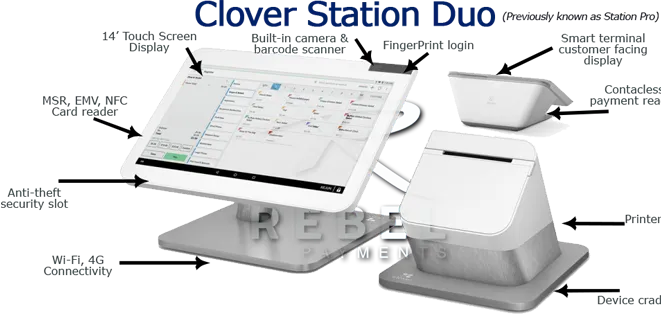 High-definition 14″ screen

7" facing touch screen

Fingerprint login
High-speed receipt printer

Wi-Fi and ethernet

Dual 5MP cameras
Clover® Point of Sale hardware has multiple options to fit your business needs.
Partner with Rebel Payments to save on your merchant services.