---
------

A MULTI FUNCTIONAL DEVICE
Clover® Mini
Small but Powerfull
Mini is small enough to fit into any space, but packs plenty of POS power to run your full house, front to back.
The Clover® Mini is a multi functional device! With Clover Mini in your corner, you're ready for whatever business throws at you from day one.
Monitor your sales, refunds, and best-selling items from any computer or mobile device.
User Friendly Interface
Your staff can start taking orders with minimal training.
Fast Processing Speed
Cut chip card transaction time down to under 3 seconds—and serve more customers.
---
Compact
and powerful
A full point-of-sale system in one sleek little package.
Clover® Mini is a compact POS with a small countertop footprint and a big appetite for business. Cash Register It offers swipe, EMV chip and contactless payments, and it's as powerful as it is eye-catching. Whether you want just a basic terminal, or all the bells and whistles, Clover® Mini gives you all the options. Never has a POS system been so customizable so easily. The Clover® Mini provides powerful solutions in a small package.
Lightweight and discreet, the Clover Mini will definitely not hog your counter space. It's sleek design would go well for most retailers and it is ideal for small to medium-sized restaurants with its tips function.
Rebel Payments offers Clover® Station Duo, Clover® Solo, & Clover® Flex.
---
Find out what Clover can do for your business
Fill out the fields below and a Rebel Payments Services representative will contact you. Your submitted information is private and secure.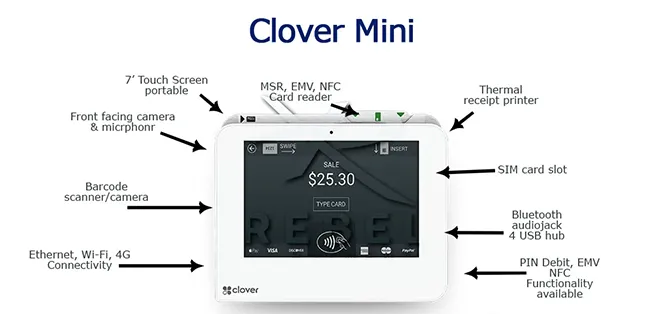 7" Antimicrobial Screen

Long-life battery

Connects via WiFi

Built-in printer inside one package
EMV/Apple Pay/Pin-debit

Integrated front-facing camera
Everything you need, at your fingertips