---
------

ACCEPT CREDIT CARDS ON THE GO
Clover® Flex
Accept All Payment Types
Swipe, dip, or tap. Credit or debit. NFC payments including Apple Pay, Google Pay, WeChat Pay, Alipay and more. Now twice as fast
Stock-smart
Categories, labels, modifiers and variants help you keep your inventory up-to-date and organized.t
Customers to loyal fans
Create a fun, effective loyalty program within minutes—absolutely free, no strings attached. We've got custom-branded gift cards, too
---
Accept credit cards
on the go
The Clover® Flex is the most secure way to take mobile payments Your Clover® Flex takes orders and accepts payments where your customers are.
The mobile Clover® Flex device offers you "flexibility" whether you're checking out customers waiting in-line, table-side at a restaurant, or even at the counter of your store. The ability to take orders, transactions all in the palm of your hands. It's portable size can let you take orders, process a transaction, print the receipt, get the customer's signature, and even adjust a tip right on the spot.
Clover® Flex offers the ultimate in mobility and usability, with Clover® Flex, all of the most popular features of the Clover system have all been added to a single device.
Rebel Payments offers Clover® Station Duo, Clover® Solo, & Clover® Mini .
---
Find out what Clover can do for your business
Fill out the fields below and a Rebel Payments Services representative will contact you. Your submitted information is private and secure.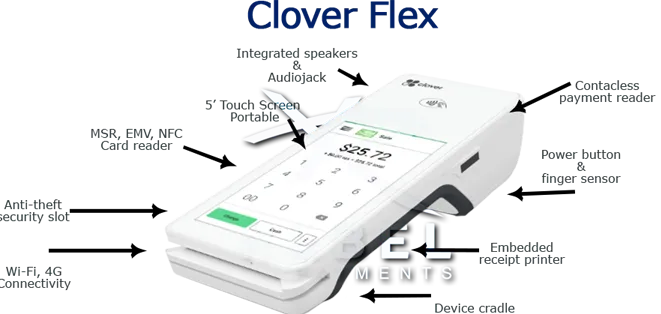 EMV/Apple Pay/Pin-debit

Long-life battery

Touch-screen with front-facing camera

High-speed receipt printer

5″ High-definition glass screen

Connects via WiFi
Everything your business needs. In one simple, smart, reliable device.