---
------

FAST, PERSONAL & SECURE
Clover® Solo
(Previously known as Station)
Full Service Restaurants
Process guest payments, print receipts, and track orders
Retail & Service Businesses
Process customer payments, and print receipts
• Manage inventory, run reports, schedule staff
• Run Clover's software to manage your business
• Gain key insights by tracking your sales and business performance with easy-to-use reports
Insights at Your Fingertips
Manage your floor with table mapping that optimizes your layout
---
Smart terminal
to a new level
The Clover® Solo is a countertop POS system designed for larger restaurants, retailers and service businesses that can easily integrate your business management into a POS system. Further customize your Clover® Solo to fit your business needs with optional accessories such as kitchen printers and apps through the Clover App Market for additional functionalities such as managing inventories, customer rewards, gift cards and employee scheduling.
Run your business like a pro with our fastest, most secure point-of-sale system yet. We're taking smart terminal to a new level, making it easy to offer rewards, capture information, ensure order accuracy, and accept just about every mobile payment type.
Rebel Payments offers Clover® Station Duo, Clover® Flex, & Clover® Mini .
---
Find out what Clover can do for your business
Fill out the fields below and a Rebel Payments Services representative will contact you. Your submitted information is private and secure.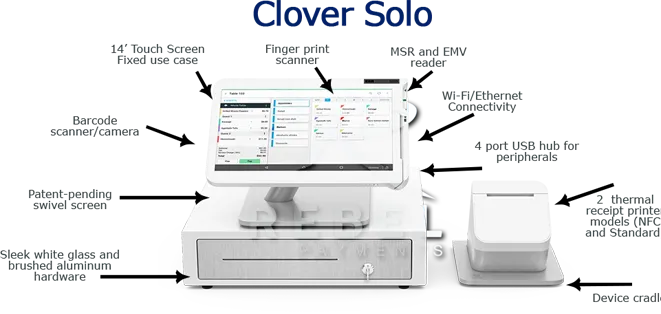 High-definition 14″ screen

Barcode-QR code scanning

Fingerprint login

High-speed receipt printer

4 USB ports

Dual 5MP cameras
Station Solo is a high‑performance POS system to manage
your business and process payments